President's Message, October 29, 2021
Canada Post Vaccine Mandate
Earlier this week Canada Post announced their amended roll out of the federal vaccine mandate. While their original plan allowed for those employees who are unable or unwilling to be vaccinated, their amended plan will only provide this option to those who cannot get vaccinated for conditions set out under the Canadian Human Rights Act. Those employees who choose not to get vaccinate will be sent home without pay.
That's unacceptable!
Please CLICK TO DOWNLOAD THE NOTICE.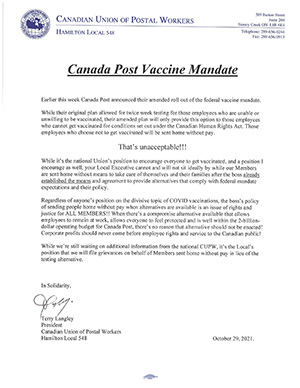 In solidarity,
Terry Langley
President,
Hamilton Local 548